.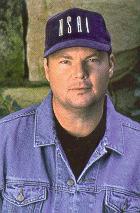 .
In 1980 his self-titled debut took the pop world by storm, racking up hits with "Ride Like The Wind" and "Sailing" (among others), soaring to #1 and sweeping the following year's Grammys. In fact, Cross broke Frank Sinatra's record, taking home 5 Grammy awards in one evening.
Christopher Cross:
Greatest Hits Live
This is an excellent collection of his hits, beautifully perfomed.
Red Room Christopher Cross
A splendid album from Christopher Cross with a wide range of material beautifully performed with intriguing arrangements.
Walking in Avalon
Christopher Cross
"Walking in Avalon", a collection of new tracks and old favourites, proves that his knack for laidback melodic pop/rock is a strong as ever
Another Page
Christopher Cross
A fine album by Christopher Cross, featuring a collection of deep meaning songs such as "Think of Laura", "Nature of the Game", the moving "Words of Wisdom", and the hit "All Right".
Christopher Cross
Christopher's remarkable debut album took the pop world by storm and sold more than 4 million copies.
Worth adding to any CD collection.
Very Best of Christopher Cross (Remaster [IMPORT]
Digitally Remastered. Limited Release, Available for 1 Year Only!
Very Best of
Christopher Cross
The 2002 album "The Very Best Of Christopher Cross", is a true retrospective to one of the most underrated singers and songwriters
The Best of Christopher
Cross [IMPORT]
1992 compilation (WarnerBrothers) featuring a dozen of Cross' all-time greatest. Never released Stateside, it contains his 3 biggest smashes, the #1's 'Sailing' & 'Arthur's Theme (Best That You Can Do)' and the #2 'Ride Like The Wind', plus the top 20 hits 'All Right' and 'Say You'll Be Mine' (featuring backing vocals by the late Nicolette Larson).